Artist Profile | UAB Gospel Choir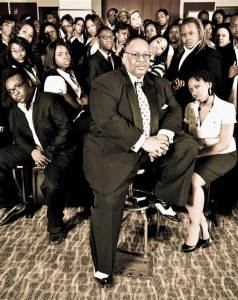 UAB Gospel Choir, Kevin P. Turner-director
Since its inception in 1995, the UAB Gospel Choir has brought American Gospel Music from the choir stand to the classroom at the University of Alabama at Birmingham and developed a powerhouse strategy of turning out above-average talent and presenting sold-out concerts. This recording and touring ensemble has an arsenal of 145 voices, steppers, rappers, orators (spoken word), a dance and mime team, plus four nationally released CD recordings (Live, Lessons for Life, Gospel 101: Go Dominate and MIRRORS). Gospelflava.com recently named its director, Kevin Paul Turner, "A Modern-day Godfather of College Gospel Choirs." Youtube.com documents their international fan base with over 1 million combined hits. Equally important, their university includes them as a Top Breakthrough Story in its 40 year history!
The UAB Gospel Choir has mounted the stage with industry heavy hitters to include: Stevie Wonder, Ruben Studdard, Taylor Hicks, Lee Greenwood, Daryl Coley, Vanessa Bell Armstrong and opened for headliners throughout the southeast  this list includes The Clark Sisters, Tonex, J. Moss, Karen Clark Sheard, Fred Hammond and Kirk Franklin. This choir was featured in the filming of a documentary produced by Dr. Henry Louis Gates – Harvard's chair of Afro-American Studies, "Black America in the 21st Century, journey through the South." The show aired on PBS in the USA and the BBC in Great Britain. It's highly acclaimed Gospel Anthology DVD is part of the multi-cultural curriculum in more than 100 schools, beginning with the Birmingham City Schools. The UAB Gospel Choir and its director was the feature story in Southern Living magazine, the 40th Anniversary Edition of UAB Magazine and WOW Magazine. Most recently the choir performed live on NBC's The TODAY Show with Al Roker to 5.5 million viewers.
The choir's performance home is the UAB Alys Robinson Stephens Performing Arts Center. Known for its vast repertoire and the eclectic mix of its shows, the UAB Gospel Choir continues to have its feet firmly planted in the gospel genre. This is demanded by its founding director Kevin P. Turner, who is a well-respected veteran in performing arts and academic circles. Turner infuses his experience with youthful talent recruited from throughout the USA and abroad. To date, songs from it recordings have made it through the highly-competitive process of landing in rotation on radio (local, satellite and syndicated), next to accomplished artists. Four major airlines have carried UAB tracks on their jets.  The choir's motto is "We Love to sing and it Shows." More than any accolade or any award, which the UAB Gospel Choir has been blessed to have quite a few, ask anyone in the choir what's most important and they'll tell you it is the joy of sharing "our" music with world.
Kevin Turner & the UAB Gospel Choir have hosted master classes with singers, professional musicians and ensembles (that were eager to learn the dynamics of gospel music) from Switzerland, Germany, the West Indies, Israel, Amsterdam/the Netherlands and traveled to London & Birmingham, England in 2011 for a 8-day tour.
Mission:
To enhance the acceptability and student performance of gospel music as a "pure art form" in the intellectual, instructional, practical and applied behaviors of music.
Record Label: UAB Gospel Music Group (independent)
Distribution: MDI Distribution, Central South, New Day Christian
Discography:
LIVE (1995) UAB Entertainment & Tyscott Records. Distribution: Tyscot, Polygram, CGI Records
Lessons for Life (2002) UAB Entertainment. Distribution: Southwest Wholesale, New Day Distribution
Gospel 101: GO DOMINATE! CD/DVD SET (2008). Distribution: MDI Distribution, Barnes & Noble
Gospel 101: GO DOMINATE@ enhanced CD (2009). Distribution: MDI Distribution, Barnes & Noble
MIRRORS (2011). Distribution: MDI Distribution, Barnes & Noble
Legacy (2011) Internet/digital only release. Distribution: iTunes, Myspace Music, Rhapsody, Amazon.com, CDbaby
Commissioned Works:
WABM 68/UPN TV "I Like It", Birmingham Chapter American Heart Association, NBC Today Show TV "Lend A Hand", MY-68 TV "Got My 68", Good Day Alabama TV "Good Day Alabama", Alys Robinson Stephens Performing Arts Center 10th & 15th Anniversary jingles, MENC Music Educators National Conference "Everybody Ought To Know"
Major Reviews:
XM Satellite Radio, Gospelflava.com
UAB Gospel Choir 1530 3RD Ave. S. HC117 Birmingham, AL 35294
Kevin P. Turner, Director
Web sites: www.uabgospelchoir.org, www.music.uab.edu
Facebook: The UAB Gospel Choir, uabgospelchoir reunion
Myspace: uabgospelchoir
Skype: kevinpaulturner
Twitter: uabgospelchoir
Phone: 205-934-6155
Fax: 205-975-1931
Email: kturner@uab.edu