Study says: Teens leave churches that seem judgmental and many never return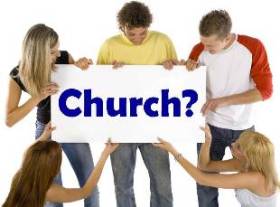 Why do young Christians leave the church?
New research by the Barna Group finds they view churches as judgmental, overprotective, exclusive and unfriendly toward doubters.
They also consider congregations antagonistic to science and say their Christian experience has been shallow.
The findings, the result of a five-year study, are featured in You Lost Me: Why Young Christians are Leaving Church and Rethinking Faith, a new book by Barna president David Kinnaman. The project included a study of 1,296 young adults who were current or former churchgoers.
Researchers found that almost three out of five young Christians (59 percent) leave church life either permanently or for an extended period of time after age 15.
Clashes between church expectations and youths' experience of sexuality have driven some away. One in six young Christians said they "have made mistakes and feel judged in church because of them." And 40 percent of 18- to 29-year-old Catholics said their church's doctrine on sexuality and birth control is "out of date."
Do you think our churches should update their approach to better reach teens?
Comments