Smokie Norful, John P. Kee & LeCrae set for free concert in Birmingham [Details Inside]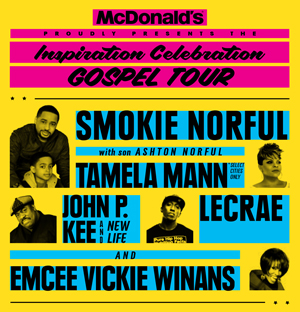 The 2013 Inspiration Celebration Gospel Tour is coming to Birmingham for a free concert series. The event is being held at  Bill Harris Arena 2331 Bessemer Rd Birmingham, AL 35208 on June 6, 2013 7pm. Smokie Norful (with son Ashton Norful), John P. Kee, and LeCrae will be performing. Gospel artist/comedienne Vickie Winans is the event's host.
Sadly, Tamela Mann will not be performing at this stop, but you can catch her at their next stop in Atlanta on June 7th at Greater Travelers Rest.
Tickets will be available online and at the following local Birmingham outlets on May 6:
JB's House of Fashion, 1630 3rd Ave W, Birmingham. AL 35208, 205.788.4491
Lifeway Christian Store, 220 Doug Baker Blvd, Birmingham, AL 35208, 205.408.0536
There will only be 1,000 tickets available online.