Rev. Fred Shuttlesworth memorials set; two weeks away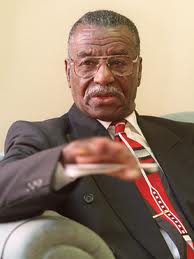 BIRMINGHAM, Ala. (AP) —Birmingham's mayor and the widow of the Rev. Fred Shuttlesworth have announced a preliminary schedule for official events surrounding the Legacy Memorial celebrations for the civil rights icon.
The events commemorating his legacy will begin Oct. 22 with a memorial service where he will lie in state at Bethel Baptist Church, where he served as pastor from 1953 to 1961.
The following day, he will lie in state at the Birmingham Civil Rights Institute. Later that day, a pastoral remembrance will be held at the historic 16th Street Baptist Church across the street.
On Oct. 24, a legacy memorial service will be held at Faith Chapel Christian Center with internment to follow.
Shuttlesworth died in Birmingham Wednesday following a long illness.