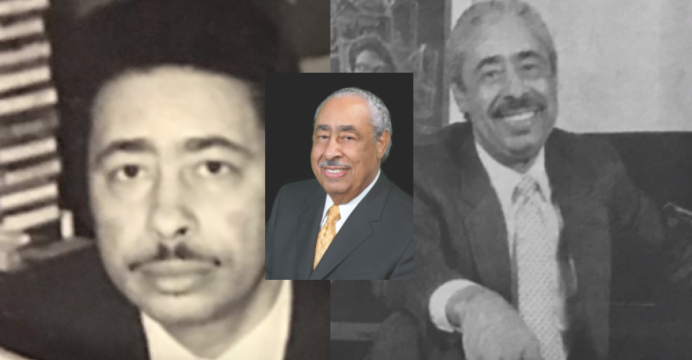 Remembering the life of Rev. Dr. Erskine Faush

Dr. Erskine Faush's grandson reflected on his legendary grandfather on Facebook this week, confirming his passing. Memorial information is not available at this time. Today, we reflect on his life.

Known as the man with the "sweetest voice this side of heaven," Reverend Dr. Erskine Faush Sr. has been delivering his holy message to Birmingham audiences for the last 63 consecutive years. Considered a legend in the business, Reverend Faush combines his preaching talents with his flair for broadcast every Tuesday through Friday during his program Gospel Cavalcade on 900 Gold WATV.
He played James Cleveland's "The Love of God" to open the program.
Reverend Faush began his radio career in 1950 when he was recruited to work as a part-time announcer. Already serving as a preacher, Reverend Fuash welcomed the opportunity as another way to share his ministry. Most notably, his program gave hope and inspiration to hundreds of African Americans during the Civil Rights Movement. He and his broadcasting partner, Shelley Stewart, have been described as "cornerstones of Birmingham black radio." Their contributions to the movement have been cited by prestigious organizations and leaders: from the president of the United States to the National Association of Black Broadcasters.
Shelley and Reverend Faush went on to partner as radio station owners and operated Birmingham Ebony Broadcasting—"the authentic voice for African Americans in Birmingham"—for nearly 20 years until they sold WATV-AM to Sheridan Broadcasting in 2004.
Reverend Faush continues his love of ministry as pastor emeritus of the Metropolitan A. M. E. Zion Church in Birmingham and is presiding elder of the Birmingham District, North Alabama Conference. He has served as director of ministerial training for the North Alabama Conference, as a delegate to the World Methodist Conference, and as chairman of the Episcopal Committee of the General Conference.
Other business roles and responsibilities include builder and chairman of Faush-Metropolitan Manor, a housing development for the elderly in the Woodlawn community; president of E&W Management Corporation, a property management company; and president of ERF Productions, a promotion company for African American colleges and universities; and president/co-owner of Birmingham Ebony Broadcasting Inc.
Faush Metropolitan Manor's latest technology
Reverend Faush and his wife, Audrey, have three children: Brenda, Anita, and Erskine "Chuck" Jr.
Education:
Bachelor of Arts Degree-Faith College in Birmingham
Master of Science Degree-Alabama State University
Broadcast Communication Studies-University of Denver
Urban Studies and Community Planning Graduate Studies-Alabama A&M University
Interdenominational Theological Seminary
Master of Divinity Degree-Union Seminary
Doctor of Divinity Degree-Livingstone College in Salisbury, North Carolina
By: Alabama Broadcasters Association
Affiliations:
Executive Board of the Governor's Economic Council
State Minority Business Enterprise Board
National and State Associations of Broadcasters
Board Member of the Private Industry Council
Former Trustee of the Chamber of Commerce (Birmingham)


Comments