New Music | Lett Sisters "Rapture"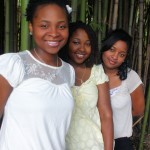 The Lett Sisters is a group from Birmingham, AL that is on their way to a great career in gospel music. This single "Rapture" is very radio friendly and inviting to younger listeners. With lyrics like "Get aboard the ship and get ready to dip," the song effectively gets the message across to the youth and introduces them to the Rapture. They are currently in the studio working on a new project.
Check out the song below and let us know what you think.
[audio:http://mybirminghamgospel.com/wp-content/uploads/2011/11/10_-_Rapture.mp3|titles=10_-_Rapture]
Comments