Jeremy Wallace & Elevated Praise readies new single with Denita Gibbs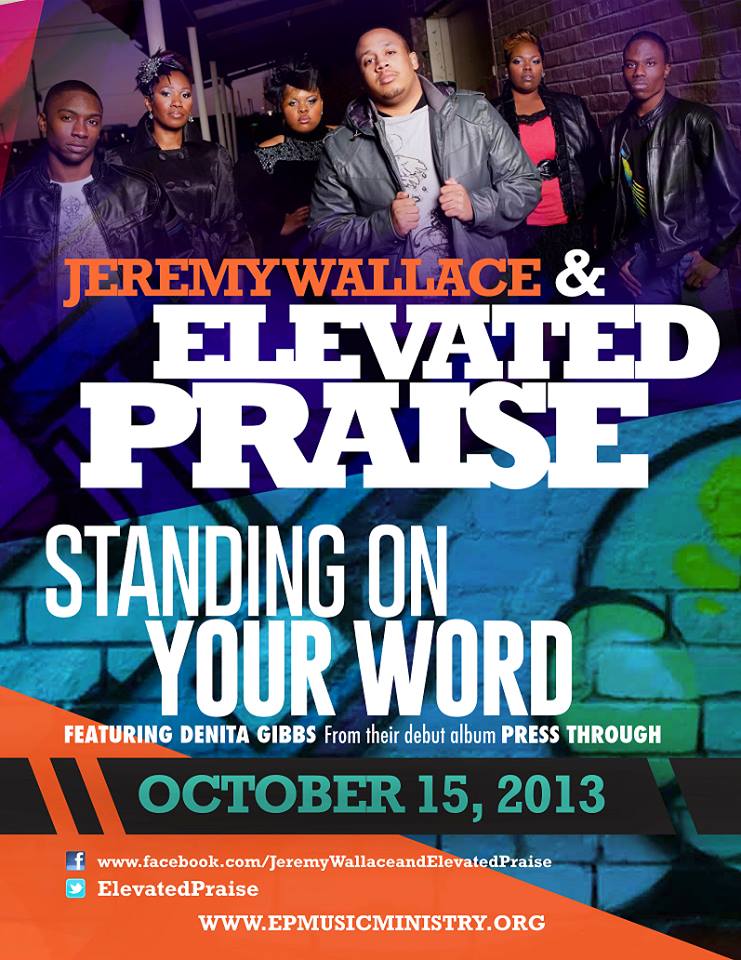 Jeremy Wallace and Elevated Praise are officially releasing their new single, "Standing on Your Word,"  Tuesday, Oct. 15, 2013. The track features this year's breakout gospel artist, Denita Gibbs. She recently performed her single "Without You" live on the nationally syndicated Rickey Smiley Morning Show and debuted on the top 20 Billboard gospel chart. 
Jeremy Wallace & Elevated Praise have been featured on numerous national gospel music sites and television the past few months, including Lee Bailey's EURWeb and Fox's Good Day Alabama.  The group was also recently nominated for four 2014 Rhythm of Gospel Awards.
"Standing on Your Word" is upbeat and gives listeners a taste of "down home" traditional gospel, while keeping a contemporary flare. It encourages listeners to put their trust in God when seeking success and also during life's problems. Their LP, "Press Through", gained air play on stations in the United Kingdom, as well as on some of the top stations in the region (95.7 Jamz).
"This song was fun to record; I had fun with it! It's traditional, but with a modern twist. It took me back to when I was a kid in church," says Jeremy Wallace and Elevated Praise soprano, Tenisha Grimmett. "I love the message of this song because it's so simple – no matter what you're going through in life; you can always stand on the Word of God. His Word is true."
"It was birthed from Psalms 27," explains Jeremy Wallace, who also wrote and produced the track for the album.  "It just kind of evolved into one of those Scripture quoting songs, you know?  If you're going to sing a song about standing on His Word, then quote the Word!  That's Isaiah 62:6 – the Amplified version.  All my life I've heard things about bringing God to remembrance of His promises.  Whenever a person says, 'God, You said,' all of Heaven comes to attention because God is faithful to His Word."
The new single, "Standing on Your Word," is available on iTunes, Amazon, CDBaby, Google Play and with other online retailers.
"Jeremy Wallace is a breath of fresh air in gospel music and Elevated Praise has big voices and a true heart for worship," says DJ Strick (WBHJ-95.7 Jamz).
Join the conversation of social media, use #STANDINGONYOURWORD when discussing the single.
About Jeremy Wallace & Elevated Praise:
Setting out to establish a new movement and vibrate sound, Jeremy Wallace and Elevated Praise was created on June 2, 2008. With a life changing message and pure praise, this group sets a new trend and innovation within gospel music. Already having recorded their own music video to their debut single, "You're All I Need" the group has taken a lead in their region (Birmingham, AL).
Their music is in rotation on radio the United Kingdom and can be heard on some of the South's well-known gospel programs such as, 95.7 Gospel Jamz. Their debut project was also released on Jeremy Wallace's own record label, AGE Music Group, following the lead of gospel industry greats like James Fortune and Earnest Pugh.
Armed with a victorious sound and operating in the spirit of excellence, no expectation is too high for this group. Jeremy Wallace and Elevated Praise maintain a direct approach that allows their music to transcend to all nations and generations. With styles ranging from hard rock contemporary, to melodic jazzy compositions, these well rounded young adults are poised to overhaul the culture of gospel music.
Like them on Facebook: facebook.com/JeremyWallaceandElevatedPraise
Follow them on Twitter: @ElevatedPraise
Comments