'I'll Be Home For Christmas: An Urban Musical Drama' to hit Birmingham, Dec. 21-22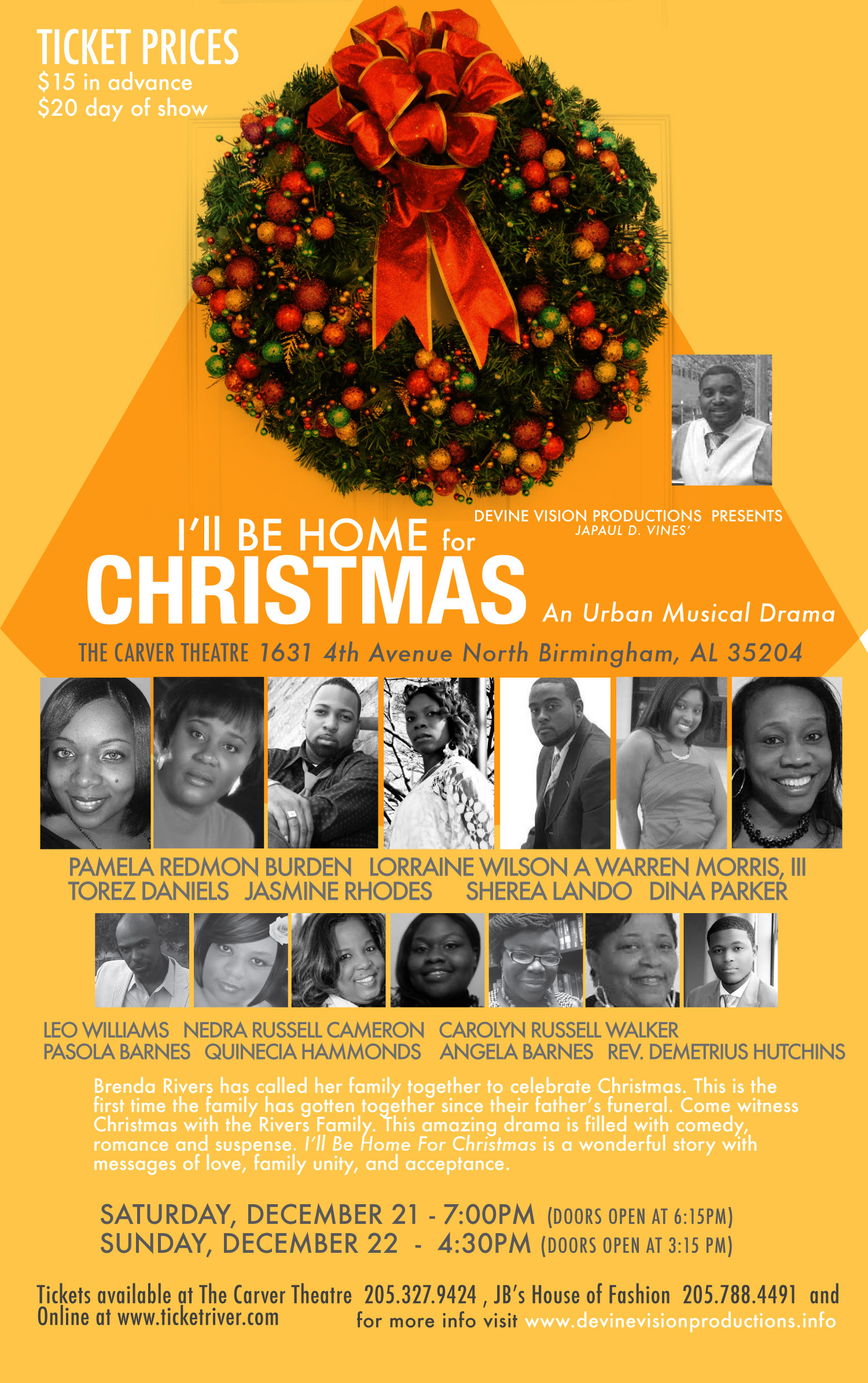 DeVine Vision Productions, a Birmingham-based theatre company, is celebrating their one-year anniversary. Since the inception of DeVine Vision Productions in October 2012, the theatre company has performed four stage plays for audiences across Birmingham.
"When God gave me the vision for this business, I wanted to showcase people who have never been given the chance to have their gifts exposed before large audiences", says founder, JaPaul Vines.
Vines has remained true to his vision and goal. JaPaul Vines and the cast and crew of DeVine Vision Productions will return to the Carver Theatre with I'll Be Home For Christmas: An Urban Musical Drama. The show takes place on Saturday, December 21 at 7:00 p.m. and Sunday, December 22 at 4:00 p.m.
I'll Be Home For Christmas: An Urban Musical Drama tells the story of Rivers Family matriarch, Brenda Rivers. Brenda Rivers has called her family together to celebrate Christmas. This is the first time the family has gotten together since their father's funeral. Billie Mae Jones (Big Mama) is staying with her daughter Brenda for the holidays and is not looking forward to mess in the family that she knows is about to go down.
William, the eldest of the Rivers children, is experiencing communication problems with his wife Renee. Carlos, the knee baby of the Rivers children, has recently gotten laid off his job. Carlos' wife Toni has experienced four miscarriages and is currently expecting. Brandi, the youngest of the Rivers Children, is a successful attorney who has allowed her career to come before God, her family, and her own personal life.
"We are inviting everyone to come out and witness this awesome stage play," says JaPaul. "You have not witnessed Christmas, until you witnessed it with the Rivers Family. The play was performed last year to launch the theatre company. We are excited about bringing it back this year. The story line is the same, but we have tweaked a few scenes and have new music." I'll Be Home For Christmas: An Urban Musical Drama is filled with comedy, romance and suspense. It is a wonderful story with messages of love, family unity, and acceptance. The show also features Gospel, R & B, Jazz, and Christmas Music.