E. Tony Gaines relaunches group with new look, single, concert & website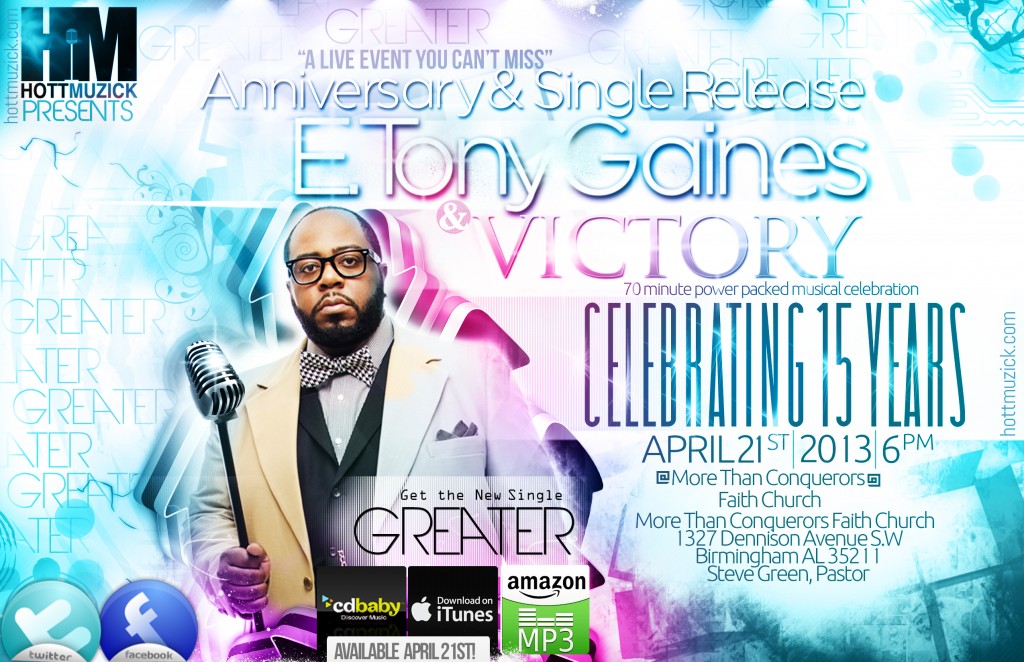 E. Tony Gaines & Victory is set to relaunch with the release of their new single, Greater, also with a 70-minute musical celebration and new website. The choir debuted in 1998, boasting nearly 75 members during its early stage. There has been a transformation taking place over the past few years with the choir, now group. One early change came with the group being renamed, from Victory in Praise Music Ministry to Victory.
Victory has also not performed or made appearances recently, but the group is energized and now hitting the scene with a few new faces and music. On Sunday April 21, 2013 at 6:00pm the single will debut during their 15th Anniversary Concert at More Than Conquerors Faith Church, located at 1327 Dennison Avenue Southwest Birmingham Alabama, 35211. There is no admission charge. Greater will be available for download on Amazon.com, iTunes and CDBaby.
Gaines' new website describes his shift from primarily being known for his group, but also as a music collective. "Bringing a crisp technique and soulful resonance to the worship genre" adorns the new website. Hottmuzick does not only focus on Victory, but also music consulting and production. Check out hottmuzick.com for more information.
Check out some of the new photos below.