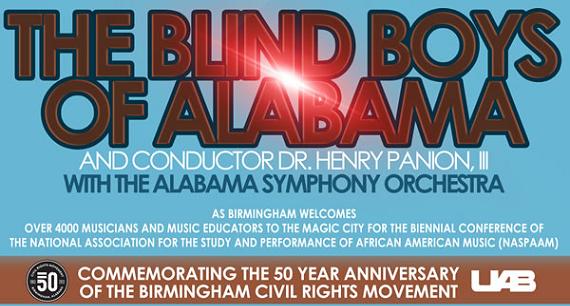 Blind Boys of Alabama to perform with the Alabama Symphony Orchestra & Dr. Panion III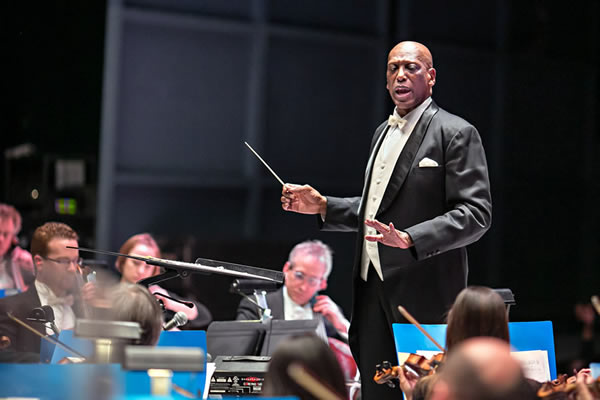 The Blind Boys of Alabama will perform with the Alabama Symphony Orchestra (ASO) and conductor Henry Panion III, Ph.D., in a special concert to commemorate the 50th anniversary of the seminal events of the Birmingham Civil Rights Movement.
The event is presented by the University of Alabama at Birmingham (UAB) Department of Music in conjunction with the biennial conference in Birmingham of the National Association for the Study and Performance of African-American Music (NASPAAM). The performance will take place at 8 p.m. Saturday, March 16, 2013, in the Jemison Concert Hall of UAB's Alys Stephens Performing Arts Center, 1200 10th Ave. South. Tickets are $55, $35 and $22 and will go on sale Friday, Feb. 1. Call 205-975-2787.
This special concert will serve as a fundraiser for the UAB Stevie Wonder Music Technology Scholarship Endowment Fund. Panion has served as conductor and arranger for Wonder for 20 years, and the endowment fund was established with a Stevie Wonder benefit concert in 1996 for UAB students majoring in music technology.
CLICK HERE FOR TICKETS: http://smarturl.it/BlindBoys