Bham Gospel Legend | Dr. John David Brown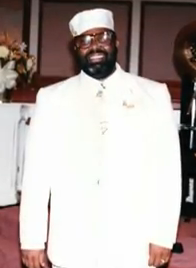 Dr. John David Brown
Dr. John David Brown was a great director, composer, minister, administrator & educator. He served at Mt. Zion Full Gospel Baptist Church in Birmingham, AL as Pastor of Praise and Worship, Teacher of Season Saints, Director of Cultural Arts Ministry and Governing Leader. Dr. Brown attended Birmingham City Schools, graduating from Ullman High School. He earned degrees from Miles College, Alabama A&M University, a Masters Degree from the University of Montevallo, an Ed. D. from the University of Alabama at Birmingham and a Doctorate of Ministry degree from Sacramento Theological Seminary and Bible College.
Dr. Brown served as Minister of Music at New Hope Baptist Church for 35 years. During that time he and the choir served as an ambassador to the Spain Baptist Convention for the Alabama State Baptist Convention. In 1998, they traveled 11 days ministering in songs to thousands of Christian believers in Spain. The choir had numerous television appearances and also received a Resolution from the State of Alabama and won many awards, including The Birmingham News' Best Church Choir award.
In 1997, Dr. Brown served as the director of the One Thousand Voice Choir of the National Baptist Convention Board's meeting in Birmingham, Alabama.
He produced his first album, "I'll Be Singing Up There", in the early 1980's and his second "Turn It All Over To the Lord" in 1994. In 1985, Dr. Brown collaborated with other musicians throughout the state to produce an album for the Alabama State Convention Gospel Fest Choir.
Dr. Brown founded the Church Music Workshop, which was held annually in the City of Birmingham for more than 20 years. He produced its first album in 1989. He is one of the founders of the Birmingham Community Choir of the Gospel Music Workshop of America, Inc., where the late Dr. James Cleveland is the Founder. He worked very close with the late Mary K. Elsaw and other associates of the Gospel Music Worship of America, Inc. Many of these friends served as clinicians and lectures in the Church Music Workshop of Birmingham, Alabama.
Dr. Brown was the organizer/founder of a program entitled "Gospel and Grits" to promote tour groups for the Greater Birmingham Convention and Visitors Bureau. He also founded "True Praise Worshippers", which became the official choir for the bureau.
After retirement, he passed away in 2011 leaving behind a great legacy of service in education and music ministry.
Comments