Artist Profile | The Lett Sisters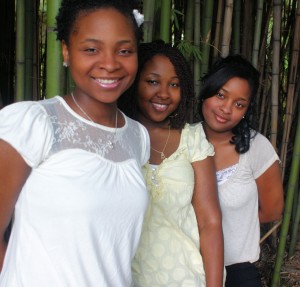 The Lett Sisters
The Lett Sisters of Birmingham, Alabama, daughters of Pastors Charlie And first Lady Bernette Lett,  possess a natural gift for music and a sincere desire to be a Positive influence in the lives of today's youth. Michelle (left) sings soprano; Kristie (Right) sings first soprano; and Bonnie (Center) sings alto. This Multi-talented trio touches a broad spectrum of musical styles – from traditional to contemporary and hip-hop Gospel. From the ages of 5,6 and 7 years, these young ladies have been actively ministering in song.
Described as "Model" students in their respective schools, they give thanks to God for their talent and for their parents' tireless labor of love toward them. Without question, their mother, also a gifted singer and musician, has been the motivating force behind their musical ability.
In 1999, they were finalist in "McDonalds Presents It's ShowTime at the Apollo." . They also were Feature at the 2001 Martin Luther King Unity Breakfast held at the BJCC. In the year 2002 they were featured on the 'Heritage festival', and Interviewed by Joy Benedict of ABC3340 News. They have completed one CD Project entitled "Sunshine"; which got plenty of air play on local radio.
Contact:
Pastor & Mrs. Charlie Lett, Jr
205 744-5716
Email  CLETTJR@HOTMAIL.COM