Artist Profile | Kenneth Williams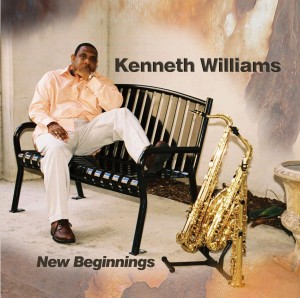 Kenneth Williams
Kenneth is the recipient of the Alabama People's Choice Music Award where he was awarded "Instrumentalist of the Year 2009." He's also the 2009 Singers and Musicians Conference Alabama Regional Winner hosted by Dr. Dorinda Clark Cole. This accomplishment sent him to Detroit, Michigan where he was awarded the 2009 National Winner as the "Instrumentalist of the Year", presented by the renowned Dr. Dorinda Clark Cole (Clark Sisters). He was also named 2011 Instrumentalist of the Year again for the Alabama People's Choice Music Awards. 
    Kenneth has also been performing in the state of Alabama and many other states for the past 25 years!! All styles of music are under his belt: Gospel, Jazz, Classical, Latin and many more. One of his greatest musical accomplishments though was performing at the White House with The Temptations Review featuring Dennis Edwards. He says that it was a Blessing to travel to many other notable events with the Temptations Review. In 2010, Kenneth was interviewed in Nashville,TN on Sirius XM Satellite Radio by Timothy Ridley of the Road Dog station. He now has an open invitation to interview at will. But believe me, he's no stranger to traveling overseas to perform. This is only the beginning of his future endeavors. God is truly on the move with Saxophonist Kenneth Williams. 
   What a blessing it is for him to share the Good News of Jesus Christ, and to praise His name through song! Kenneth often reflects on how God is orchestrating his path in life. He has been blessed with a great family, energetic church family, and good health. Kenny's prayers are full of gratitude for such blessings. While seeking God's Will and direction for his life, it became apparent that he was to share the Gospel through his music. It is a common thread throughout his life. Kenny began as a young boy playing drums in church. But God knew He had something else in store for his life. He introduced the saxophone to him. Not only was it one of the most Glorious moments in this man's life, but it aided in changing it. He took a quiet shy boy, put music in his heart, and sent him out to share it with the masses. Thank God for His favor!! 
    For about 24 years now Kenny has been spreading the gospel of music to numerous churches and events throughout the Southeast. To best describe his style of music would be a Powerful Inspirational Gospel of Praise. Although he has a calm demeanor, when he picks up his saxophone, he just can't help but to let go and let God!! Kenneth enjoys all styles of music. It is his belief that a musician should be well-rounded. He likes to sprinkle in a little of everything for a variety in life. And yes, reading music is vital to a well-rounded musician!!
    Kenneth says that he is grateful and honored that God allows him to do something he enjoys, and to bring praise and honor to Him through song. Kenneth is a product and native of Bessemer, AL. He is also a 5th grade educator in Bessemer as well. No not music, but all academic subjects. He has been Blessed with two professions where he gets to touch souls and change lives on a daily basis.  
CD Release
    Kenneth released his debut "Smooth Gospel Jazz" cd in March 2011. It's simply entitled, New Beginnings. This cd will be starting a new life for him. He can't wait to share these unique sounds with the world. Trust me, it's something different and needs to be listened to. He says that if you play this cd while working around the house, you just might not stop working 🙂 It's something to take you away for a while. You may download his music from his website, itunes, rhapsody, amazon, and many more. Check him out today! He's anxious for you to experience the awesome and creative renditions of familiar songs, and musical talents of musicians from the Birmingham area.
Come visit Kenneth at these sites:
http://www.kennywilliamsmusic.com
http://www.facebook.com/kennyw14
http://www.myspace.com/kennywilliams777
http://www.reverbnation.com/kennethwilliams
http://www.youtube.com/kennyw14
http://twitter.com/kwilliamssax
http://www.tunecore.com/music/kennywilliams
Email addresses:
Phone numbers:
[audio:http://mybirminghamgospel.com/wp-content/uploads/2011/10/01-Hold-to-Gods-Unchanging-Hand.mp3|titles=01 Hold to God's Unchanging Hand]
Comments