Artist Profile | Arthur Beard & Elements of Worship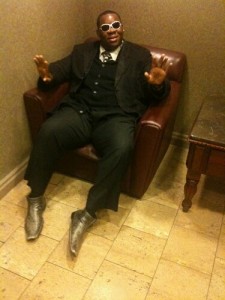 Arthur D. Beard & Elements of Worship
This dynamic group has taken the gospel world by storm and promises to take worship to an even higher element! One of Birmingham Alabama's most admired-well liked ensembles debuted on September 17, 2006 as Min. Beard celebrated 15 years of musical ministry. Elements is comprised of various vocalist, musicians, and directors from across the state of Alabama. This multitalented group not only shares a sincere passion for Christ, but also a desire to reach the masses at any cost through music.
Elements of Worship founded in November 2005 are the product of the lifelong musical experience of its founder, Min. Arthur D. Beard. Beard is a native of Birmingham, Alabama and is an accomplished director, musician, arranger, and vocalist. He has dedicated over 16 years of his life as a Minister of Music in several local churches in the state of Alabama. Minister Beard has a vision ordained by God and musical expertise that allows him to be gifted in various forms of performing arts.
Acts 2:2
"Suddenly there came from the sky a sound like the rushing of a mighty wind, and it filled all the house where they were sitting."
Truly on the "move" spreading the love of God and the message of holiness, Elements has been featured and invited to numerous concerts, musicals and worship services. The ministry has been blessed to share the stage with some of gospel music's finest. Elements has also traveled to Atlanta, GA (Ricky Dillard's Birthday Celebration), Memphis, Tennessee (Kevin Davidson & the Voices Musical), and will be attending the Gospel Music Workshop Of America in Nashville, TN.
Combining the richness of traditional and contemporary gospel, the Elements has showcased memorable performances at the Annual Unity Breakfast, "Praise is My Weapon" sponsored by Total Praise Management, State Farm Gospel Expo, SCLC Martin Luther King Jr. Weekend, Emerging Leaders Conference (Alabama A&M Gospel Choir, Kim Burrell), "Praiz In The House", opened for Jonathan Nelson at Miles College, as well as took part in recording sessions with Dr. E. Laquint Weaver & the Hallelujah Singers (Detroit, Michigan), and was special guest for Evangelist Lillian Lyord, of Atlanta Georgia. Arthur D. Beard & Elements of Worship took the stage with Pastor John P. Kee & New Life on Friday July 11th, 2008 Montgomery, Alabama. On December 5th, 2008 Arthur D. Beard & the Elements of Worship made its Debut Appearance on Fox 6 Good Day Alabama and were featured again on Christmas Day of 2008. The Elements of Worship set the house on fire at the first 2009 Concert Series of the year in Alabama, featuring Dorothy Norwood/Prince Yelder & DFC.
In September 2007, Elements drew a crowd of over 2,500 as they celebrated their (2nd Year in Ministry) with Kevin Davidson & The Voices. Also October 2008 The Elements presented "A Night to Remember, A Night of Worship," "A Salute to Richard Smallwood" for their (3rd Year Anniversary). In October 2009, we celebrated our (4th Year Anniversary) along with the Fort Valley State University Choir. Satan has made several attempts to stop the movement of God through Elements, but to no avail. The enemy cannot dwell where God resides, and through collective prayer and fasting, and invoking the presence of God, the Lord has strengthened Elements to overcome opposition – that His glory may be seen. Based in Birmingham, AL, the 30+ Elements is among the most admired, requested, and favored music ministry in the state.
The ministry travels anywhere its mission calls, ministering from a diverse repertoire of gospel music: from traditional to contemporary works, arranged by Min. Beard. Elements, under the anointed leadership of Min. Arthur D. Beard, is sure to set you in an atmosphere of Worship. "This isn't the norm, are you ready?"
Facebook.com/ElementsofWorship