Anthony Dixon releases video and single "Where Is Thy Faith"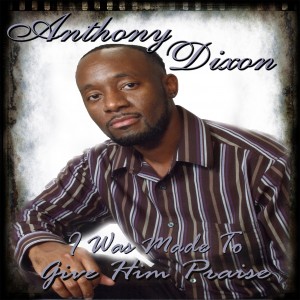 "I Was Made to Give Him Praise" is a collection of praise songs that invites the listener to experience the saving grace of Jesus Christ. From the songwriting, the listener gets a feel of Anthony Dixon's ups and downs in life, as well as his trust in God through those experiences. Anthony states that the album could not have been completed without a good working relationship between producer (Harris) and artist (himself). He states that you have to "mesh" well with anyone involved in the recording process. He is very proud of the fact that he wrote every song on the album, and plays piano/keyboards on every single track included on the album. Anthony also states that he only wants to be himself. When you hear one of his songs, he wants you to recognize his own individual style.
Contact  (205) 493-0866 or ant_1_1999@yahoo.com to purchase the project and booking.
Listen to "Where Is Thy Faith"
[audio:http://mybirminghamgospel.com/wp-content/uploads/2012/07/08-WHERE-IS-THY-FAITH-.mp3|titles=Anthony Dixon-Where Is Thy Faith]
Watch the video!
Comments